How To Face An Interview Confidently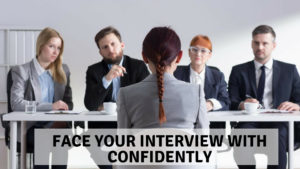 People feel emotional strain when they hear about an Interview. Most of them will focus only on the questions to be answered in the interview. Interview means it's is the test  for your behaviour body Language and honesty but not only to next your Knowledge. So, interview is a vital to approach interview's  with right the  attitude  and behaviour ,as that key to Success.
Tips to face an interview with confident :
Two  things that you must follow before attending an interview
Be thorough with your CV.
Do Research  about the company & what they are into.
Be thorough with your CV :
Be Familiar with your CV whatever you mentioned in that.
Come up with answers to common resume questions.
 Do Research about the company :
Find out the company services and   goal, strategy, products, finances, departments, competitive advantages, competitors, the work culture and the management from the website. If the company does not have a web presence call the Chambers of Commerce, and find out everything you can about them that will help you in interview. Make sure you know as much about it as you can, so that you can impress your interviewers and show them how much you care. So you can find ways to show your stuffs during an interview.
ON the Day of interview  : 
1.Be in Time
2.Dress Professionally
3.Facing an Interview :
Smile, be natural and speak with

confidence

.
Introduce yourself
Body Language should be accurate
Sit straight on the chair and look into the eyes of the interviewer
Identify Achievements
5.Engage in a Dialogue
Be Open and Honest
7. Avoid Sharing overly personal information.
Know What Not To Do :
There are few things to avoid when you are in interview.Most of the people don't know that a few innocent comments can actually cause a big red flag to go up for the interviewer.Go through the below steps to crack an interview :
Don't ask about the perks of the job before you've been given an offer. This will make it look like you're more interested in vacation days than in working.
Don't talk about how you've applied to a million jobs without being asked for an interview
Don't bad mouth your current job or employer – Even if your boss is a rude
Follow this Simple tips to crack an interview.All The Best.
For More Click Here : http://www.bloomsolutions.com/